Anna Brackin promoted to chief compliance officer
Regions Bank has made two senior appointments to its compliance and risk-management operations.

Anna Brackin has been named as the company's new chief compliance officer (CCO), a role in which she now has particular focus on areas such as Regions' foundation of compliance programs, maintaining a prudent regulatory risk framework and helping protect the bank and its customers from financial loss or harm.

She took on the role as CCO following the recent retirement of Doug Jackson, who had spent 34 years at Regions. She reports to the bank's chief risk officer (CRO) Matt Lusco.

Brackin joined Regions in 2020 as head of corporate banking strategy and administration. According to the firm, she has more closely aligned key functions within the corporate banking group such as risk controls and compliance, program and process management and analytics and reporting. Before moving to the bank, she held leadership roles in the risk management, operations and wholesale banking division at SunTrust Bank for 12 years.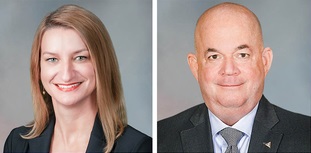 Regions has also appointed Gary Walton as business unit CRO for its consumer banking and wealth-management divisions. Walton joins the company from Union Bank, where he was CRO and executive risk officer. During his banking career he has also worked in risk-management roles at SunTrust, InfiLink and Bank of America.

Lusco says in a statement: 'Effective risk management is a strategic priority and a key component of our culture at Regions. Maintaining a strong compliance-management system is a fundamental part of our risk framework. I am confident Anna's experience, including her clear focus on compliance, plus her strong leadership skills, will ensure Regions' enterprise approach to compliance risk management remains comprehensive and in consistent alignment with the complex laws, regulations and guidance that are closely followed by our industry.

'Regions associates throughout our company know that every one of us serves a crucial role in managing risks, and the addition of Gary to our team will help us build even further on our strong foundation of prudent risk management. In particular, his experience, advice and guidance will help Regions keep a clear focus on customer protection while managing current and emerging risks in the consumer and wealth-management businesses.'