Biopharmaceutical company a winner for its DE&I efforts
Foster City, California-headquartered Gilead Sciences was awarded the best diversity, equity & inclusion (DE&I) prize at Corporate Secretary and IR Magazine's ESG Integration Awards in July this year. Here, Korab Zuka, vice president for public affairs at Gilead, talks about the company's DE&I focus.

What are the company's main achievements in terms of DE&I?
Our primary achievements are related to our ongoing efforts supporting diverse partners, making progress on our representation targets and investing further in our commitment to diverse clinical trial design. For example, we created a $10 mn racial equity community fund to support organizations fighting the racial inequities that affect black communities.

We are also pleased to share that, in the US, we exceeded our 2021 targets for female and black representation companywide and for Hispanic/Latino and black representation at the executive level. And we are committed to ensuring that the development of our medicines reflects the needs of the diverse populations we serve by engaging them throughout the clinical development process.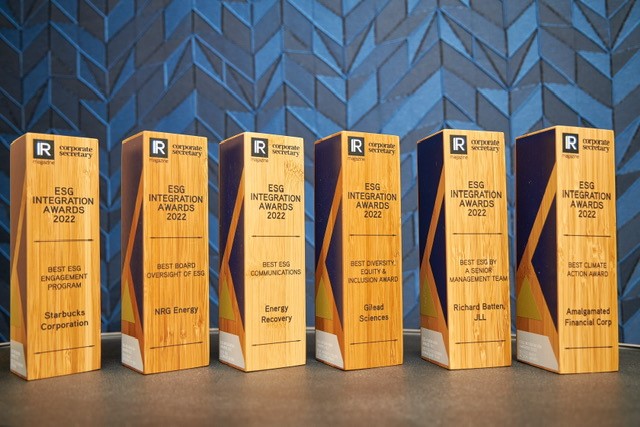 How is your board involved?
Our board receives regular reports from management on these topics, typically twice a year. More than half of our board has been identified as having ESG experience, and these regular discussions provide an opportunity for the board to remain quite engaged in our ESG strategy, goals and initiatives.

In our most recent proxy, our chairman and CEO and our lead independent director each communicated how our values are integral to fulfilling our mission to create a healthier world for all people. As an example, the board approved advancing inclusion and diversity within our human capital development program as a corporate goal, and continues to monitor our progress on achieving various [inclusion and diversity] targets.

How does ESG management operate internally?
Our board monitors our ESG practices through oversight by the nominating and corporate governance committee (NCGC). We also have a management-led corporate responsibility (CR) committee comprising leaders from public affairs, human resources, legal, manufacturing, government affairs and policy, the CFO and commercial.

The CR committee is responsible for reviewing ESG issues and, in consultation with the leadership team, making decisions and setting ESG-related goals, strategies, stakeholder engagement, public reporting, risk mitigation and other relevant activities across the company, with ultimate oversight from the NCGC. We also organize monthly cross-functional working group meetings with folks charged with operationalizing our efforts and reporting progress internally.

What lessons have you learned in terms of DE&I over the past year?
With our ambition to be the preferred partner and employer of choice, we prioritize how we attract and retain talent and engage with partners and suppliers. [Inclusion and diversity] is front and center of this ambition and our broader ESG efforts convey our corporate commitment to the communities and patients we serve. 

Moving ahead, we intend to expand engagement with key stakeholders and strategic partners and deepen our supplier accountability in order to continue advancing our [inclusion and diversity] and sustainability priorities.