Groups want to know about patent extensions amid political scrutiny of drug prices
Shareholder proposals targeting major pharmaceutical companies and resolutions looking into corporate spending on political activities are among those featuring in what is set to be another groundbreaking US proxy season for ESG.

Ahead of this year's AGMs, the Interfaith Center on Corporate Responsibility (ICCR) co-ordinated the filing of proposals with nine pharmaceutical companies about their use of intellectual property. The companies at issue are AbbVie, Amgen, Bristol Myers Squibb, Eli Lilly and Company, Gilead Sciences, Johnson & Johnson, Merck & Co, Pfizer and Regeneron Pharmaceuticals.

In each case, ICCR member organizations ask the relevant company's board 'to establish and report on a process by which the impact of extended patent exclusivities on product access would be considered in deciding whether to apply for secondary and tertiary patents. Secondary and tertiary patents are patents applied for after the main active ingredient/molecule patent(s) and which relate to the product.'

The supporting statements for these proposals state: 'Intellectual property protections on branded drugs play an important role in maintaining high prices and impeding access. When a drug's patent protection ends, generic manufacturers can enter the market, reducing prices. But branded drug manufacturers may try to delay competition by extending their exclusivity periods.'


'PATENT THICKETS'
The ICCR members are concerned about the presence of 'patent thickets', which consist of many 'secondary patents covering the formulations, dosing or methods of using, administering or manufacturing a drug' granted after the drug's primary patent has been granted.

The supporting statements note that '[a]ccess to medicines, especially costly specialty drugs, is the subject of consistent and widespread public debate in the US.' They cite a 2021 Rand Corporation analysis as finding that US prices for branded drugs were nearly three and a half times higher than those in 32 other member countries of the Organisation for Economic Co-operation & Development.

Drug prices are also attracting attention among lawmakers. For example, the Inflation Reduction Act gives the federal government power to negotiate some drug prices, and states have taken steps such as introducing drug-price transparency legislation and Medicaid purchasing programs.

The proponents conclude: 'In our view, a process that considers the impact of extended exclusivity periods on patient access would ensure that [the company] considers not only whether it can apply for secondary and tertiary patents but also whether it should do so. [The company's] current approach subjects [it] to reputational risks and potential regulatory blowback resulting from high drug prices and perceptions regarding abusive patenting practices.'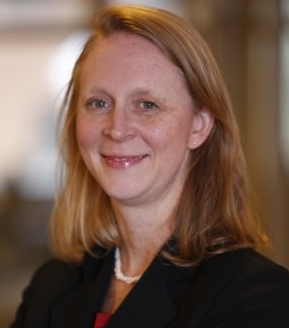 Meg Jones-Monteiro, senior director for health equity at ICCR, explains that member organizations understand the benefits of patent protections but want to know what it means when producers make secondary or tertiary extensions. If a company's strategy is simply to extend its patents with no new products in the pipeline it is facing financial risk, she notes.

ICCR has been engaging with pharmaceutical companies on drug accessibility since the 1970s, but the proposals filed with the nine companies are new for this year. Jones-Monteiro notes that there have been congressional hearings on drug prices and that legislation is being prepared, in some cases with bipartisan support – a very rare occurrence in Washington, DC in the current political climate.

The Covid-19 pandemic also ramped up fears about drug access and potential misuse of the patent system. With political and public attention on the issue, 'this is the right time to file,' Jones-Monteiro says. ICCR has spoken with the companies where it has filed resolutions and she expects to reach agreements with and withdraw proposals at some of them but not others.


COMPANIES' RESPONSE
In the meantime, the companies have mostly sought SEC no-action relief for excluding the proposals from their proxy statements – and have largely been unsuccessful. There have also been some concessions before voting starts. 

AbbVie, Eli Lilly, Gilead Sciences, Johnson & Johnson and Pfizer each argued that they should be allowed to omit the resolution because it deals with matters relating to their 'ordinary business operations'. In each case, the SEC responded: 'In our view, the proposal raises issues that transcend ordinary business matters and does not micromanage the company.'

Eli Lilly also argued that it should be allowed to exclude the proposal on the second basis that it has 'substantially implemented' the request. Here again the SEC disagreed, writing: 'Based on the information you have presented, it appears that the company's public disclosures do not substantially implement the proposal.

Representatives of the companies did not respond to requests for comment or did not have an immediate response.

Merck and Regeneron have also asked the SEC for no-action relief with the ordinary business operations argument. The agency has not yet filed its responses and Merck did not reply to a request for comment. A spokesperson for Regeneron says: 'We always welcome and engage in good-faith conversations with shareholders and will continue to do so.'


A DIFFERENT PATH
A different path was taken by the other two companies. Bristol Myers Squibb did not contest the proposal it received. A spokesperson says: '[W]e engaged in a productive dialogue with the shareholders and this resulted in an exchange for additional disclosure in our proxy statement.'

The company has added three pages of text to its proxy on access and patent exclusivity. Excerpts include:
'Innovation and patient access to it are taken very seriously at [Bristol Myers Squibb] and are regularly reviewed by management and the board of directors, as we strive to ensure that our innovations can make a meaningful impact for patients.'
'Patent applications are each subject to rigorous review and only granted when the applicable regulatory bodies recognize both the significant R&D that takes place from discovery and drug development through commercialization and are satisfied that the patent applications meet the rigorous standards of patentability before a patent is granted.'
'[I]n deciding how to exercise our legitimate intellectual property rights, the company considers all aspects of our mission to discover, develop and deliver transformational medicines.'
'When we discover and develop new innovations that lead to more life-saving medicines or subsequent patient-centered innovation (eg, better methods of drug delivery to patients), we may seek additional patent protection on these innovations after the main active ingredient/molecule patent(s) have been filed.'
Finally, an SEC filing states that proponents have withdrawn their resolution with Amgen, a move that typically indicates an agreement has been reached to implement a proposal. ICCR declined to comment and Amgen did not respond to a request for comment.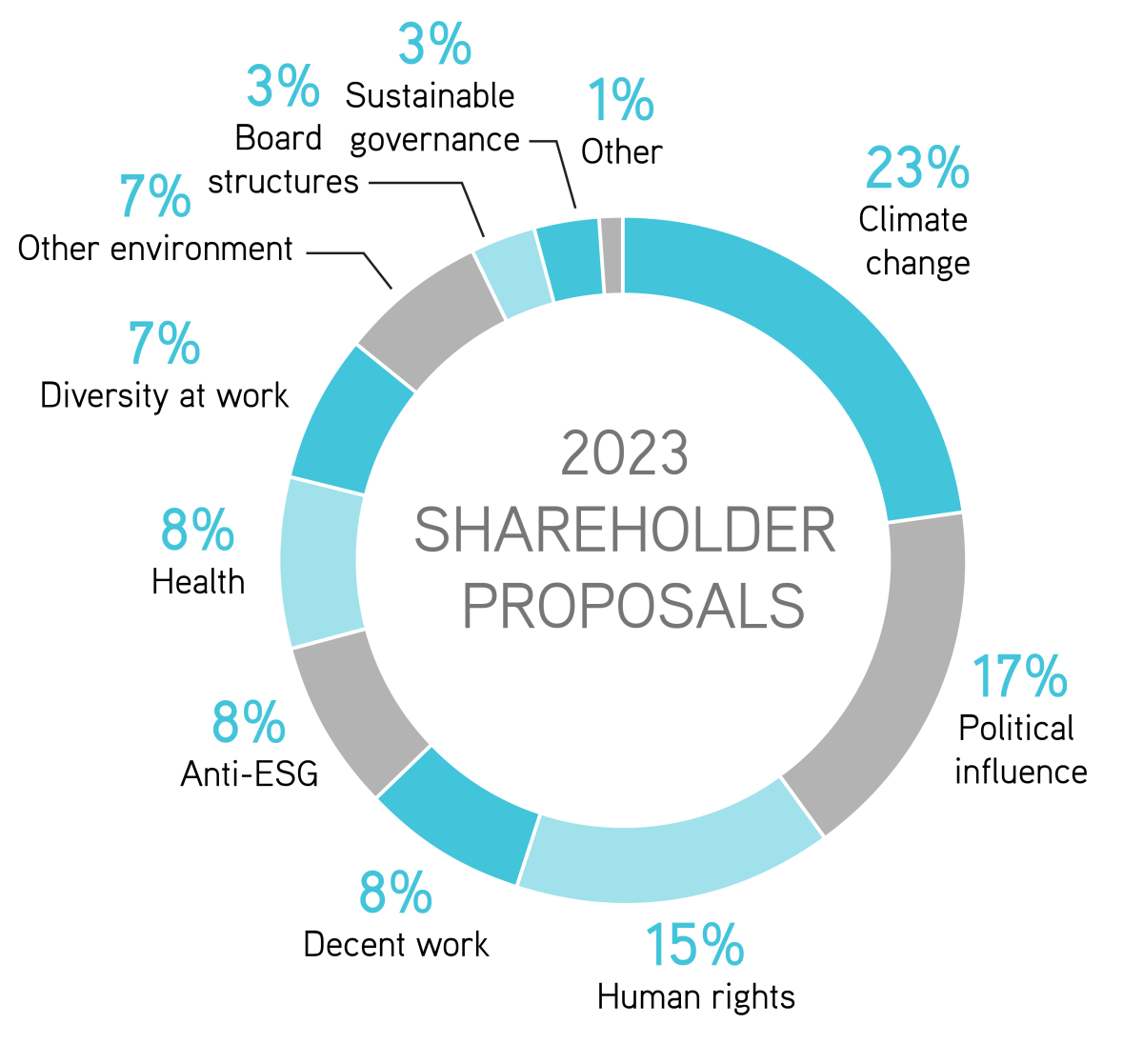 OVERALL PICTURE
Overall, the 2023 proxy season appears on track to see as many if not more ESG proposals filed with companies than in previous years. A new report from As You Sow finds that investors have filed 542 proposals so far, about even with the same time last year. A total of 617 had been filed by the end of 2022.

This refutes suggestions made by some observers following the 2020 proxy season that slightly lower average levels of support for some ESG proposals pointed to a tapering-off of resolutions and interest. Most governance professionals argued that the dips in support were more likely attributable to proponents being able to get increasingly prescriptive resolutions onto proxy statements due to the SEC taking a narrower view of which measures companies could exclude.

Climate change continues to be the focus of the greatest number of proposals, accounting for 23 percent of ESG resolutions filed so far. Political influence is also a source of much interest, accounting for 17 percent of resolutions filed, according to As You Sow. Thirty of those are on lobbying, 28 on elections and 35 on other issues that largely concern mismatches between corporate policies and recipients' viewpoints.

'Hyper-partisanship in the political arena means companies face ever-greater scrutiny about the actions of political players they fund,' the authors of the As You Sow report write.


PROPOSALS WITH ELI LILLY
One illustration of the extent of interest in political influence is that Eli Lilly shareholders will vote at this year's AGM on three separate shareholder proposals addressing its lobbying activities and political spending. The company had unsuccessfully sought regulatory go-ahead to omit them.

One proposal, filed by the Service Employees International Union (SEIU), requests that Eli Lilly prepare an annual report disclosing:
Its policy and procedures governing lobbying, both direct and indirect, and grassroots lobbying communications
Payments by the company used for direct or indirect lobbying or grassroots lobbying communications, including the amount and the recipient
Its membership in and payments to any tax-exempt organization that writes and endorses model legislation
A description of its management's and board's decision-making process and oversight for making payments described above.
The SEIU argues in its supporting statement: 'We believe Lilly's lack of disclosure presents reputational risk when its lobbying contradicts company public positions. For example… Lilly opposed Indiana voter restrictions, yet groups have asked [the company] to cut ties with the American Legislative Exchange Council 'because of its voter restriction efforts'.'

The board is urging shareholders to vote against the measure, arguing that the report requested is unnecessary because the company 'already provides shareholders with extensive disclosures regarding the company's direct and indirect lobbying activities and expenditures, and information necessary to assess the consistency of the company's lobbying activities with its expressed goals.'

Separately, CommonSpirit Health filed a proposal requesting that Eli Lilly's board 'commission and publish a third-party review… of how [the company] reconciles the strong commitments to both innovation and patient access, reflected in Lilly's statement that it 'strike[s] a balance between access and patient affordability, while sustaining investments to research innovative life-changing treatments for some of today's most serious diseases' when lobbying and engaging in other policy advocacy activities (both direct and through trade associations).'

The proponent writes: 'Given Lilly's extensive direct and indirect lobbying against measures that would make drugs more affordable, investors need to better understand the balance Lilly is striking between its commitments to innovation on the one hand, and access and affordability on the other.'

Again, Eli Lilly' s board is calling for a 'no' vote, arguing that the company already provides shareholders with sufficient information to assess the alignment of its lobbying activities with its public positions and statements through existing disclosures such as:
The board's oversight of political expenditures and lobbying activities
The company's political contributions to candidates for public office, directly and through the company's employee-led political action committee
Recipients of its political contributions
The company's federal and state lobbying activities.

DONATIONS
A third proposal, filed by Change Finance, asks the company to 'adopt a policy requiring that, prior to making a donation or expenditure that supports the political activities of any trade association, social welfare organization or organization organized and operated primarily to engage in political activities, Lilly will require that the organization report, at least annually, the organization's expenditures for political activities, including the amount spent and the recipient and that each such report be posted on Lilly's website.'

Change Finance writes in a supporting statement: 'As long-term Lilly shareholders, we support transparency and accountability in corporate electoral spending, including indirect political spending that is the subject of this proposal.

'Misaligned or non-transparent funding creates reputational risk that can harm shareholder value and place a company in legal jeopardy. Without knowing which candidates and political causes its funds ultimately support, our company cannot assure shareholders, employees or other stakeholders that its spending aligns with core values, business objectives and policy positions.'

The board is again asking shareholders to vote against the resolution. 'The actions requested by the proposal are unnecessary, impracticable and could exclude Lilly from important public policy discussions vital to [the company's] business or restrict [its] ability to further the public policy goals that are important to the company's objectives,' it writes. '[The company] already publicly discloses information regarding its lobbying activities and trade association memberships, including the extent of management and board oversight of [its] participation.'

A request for comment from Eli Lilly was not returned. Its AGM is scheduled for May 1.