Consultation poised to begin on developing new global reporting standard
The IFRS Foundation's International Sustainability Standards Board (ISSB) says it will pay 'special attention' to small and mid-cap companies when developing its global baseline of standards for sustainability disclosures.
The ISSB says it recognizes the 'additional challenges' faced by such companies and others in global supply chains in applying sustainability disclosure requirements. Its working group is about to begin consultations with jurisdictions on their capital market requirements for sustainability disclosures.
The board aims to apply feedback and settle the institutional and technical standards of the baseline by the end of 2022. Work to establish the baseline has been welcomed by the G7, G20, the International Organization of Securities Commissions, the Financial Stability Board and companies and investors around the world, the London-based not-for-profit body says.
'The ISSB's global baseline presents a unique opportunity to reduce the existing and further fragmentation of sustainability disclosure requirements. Widespread use of the baseline will reduce the costs for data preparers and improve information usability for data users,' the foundation notes.
It will fall to public authorities and market participants to support the development of the baseline and to call for or urge its widespread use, it adds.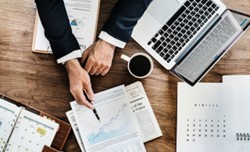 ONE-STOP SUSTAINABILITY STANDARD SHOP
The ISSB was launched in November 2021 at the COP26 climate conference in response to calls from authorities and the market for quality, globally consistent sustainability disclosures that let investors gauge sustainability-related risks and opportunities when making investment decisions and assessing enterprise value. Finance ministers and central bank governors from more than 40 jurisdictions welcomed the announcement of the ISSB and its plans to develop standards for such disclosures.
The global baseline intends to incorporate and build upon existing investor-focused sustainability disclosure standards, including those of the TCFD, the Climate Disclosure Standards Board, SASB Standards, International Integrated Reporting Council and the World Economic Forum.
The IFRS Foundation and GRI earlier this year announced an agreement under which their respective standard-setting boards – the ISSB and the Global Sustainability Standards Board GSSB – will co-ordinate their work programs and standard-setting activities.