Sarah Bratton Hughes' predictions for 2023 at the ESG Integration Forum – US
Next year will see the return of the worker as a key focus of ESG initiatives, according to Sarah Bratton Hughes, head of ESG sustainable investing at American Century Investments.
Speaking at the ESG Integration Forum – US, hosted by IR Magazine and online sister publication Corporate Secretary, Hughes said key ESG issues that will dominate during 2023 are human capital, cyber-security and global policy action.
The ESG Integration Forum – US brought together IR, governance, legal and sustainability professionals in New York last week to discuss the changing expectations around ESG reporting and communications.
In the opening session, Hughes said: 'In 2023 I'm a firm believer that the worker is going to come back center stage. I think we have a very interesting dichotomy happening in the market right now, where you have layoffs in what would be considered white collar positions, but you still have companies that can't fill more blue collar jobs.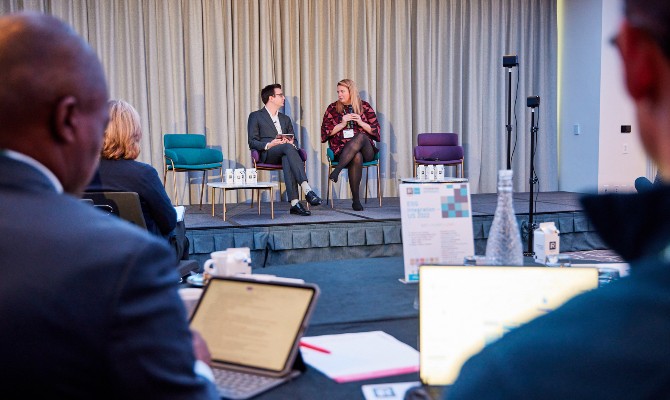 IR Magazine's Laurence Taylor talks to Sarah Bratton Hughes of American Century Investments
'Another area we're doing a significant amount of work on right now is cyber and cyber-security. It is my view that every company today is a tech company. And if you are not thinking that way, you should be thinking that way… We continue to think that is going to dominate headlines, and there is some impending regulation out there that could potentially require firms to [disclose] every time they have a cyber-breach.'
The third area of focus for 2023 is rule-making focused on sustainable investing, said Hughes. 'We've seen a massive inflection over the last three years in terms of sustainable investment policy at the global level,' she said.
'Speaking as an asset manager, many of these policies are going to start to be enforced, particularly the EU taxonomy, from January 1, 2023. So we're going to be asking – unfortunately – a lot more of all of you, in this room, about a number of your metrics aligned with that sustainable taxonomy.'
Climate action
Hughes added that she expected climate issues to continue to 'grab the headlines' in 2023. Offering advice to companies about their transition plans, she observed: 'From my perspective, it's the quality of the net-zero commitment. It's the path there – is this actually a realistic path?
'It's trying to assess where your capex is going. It's understanding how that's embedded throughout the organization. Who is the most senior person accountable for it? How is the board potentially monitoring this?'
Hughes said American Century is also focused on how companies are incorporating the principles of the just transition to net-zero commitments. 'That's ensuring that workers, countries and communities do not get left behind as we transition,' she explained.
The ESG Integration Forum – US ran over two days and included sessions on incoming regulation, the backlash against ESG, how to define the material ESG issues for your business and many other topics.
To find out more about the forum or access replays of the event, please click here.