This week's governance, compliance and risk-management stories from around the web
– The Financial Times (paywall) reported that a group of more than 70 attorneys and academics criticized what they call an 'extraordinary' omission from a proposed overhaul of the UK's Corporate Governance Code, saying an opportunity to formalize the role of general counsel has been missed.

The Financial Reporting Council (FRC), which sets and enforces standards for corporate governance, reporting and auditing, is consulting on an overhaul of the Corporate Governance Code. Its aims include making boards more responsible for accurate accounts and making directors more accountable for misconduct. 

The group of commenters noted that for UK companies, the general counsel 'has a particularly broad influence across the full range of topics the code seeks to support, whether pure governance, ethical and cultural standards or enterprise risk management.' It added that it was 'extraordinary for there to be no specific reference within the code or its supporting guidance to the role of the general counsel.'

The group urges the FRC's revised version of the code to reflect the fact that the general counsel is 'uniquely positioned' in having 'an integral role' in 'creating and maintaining a strong and healthy corporate culture.'


– Bloomberg (paywall) reported that, according to a new report, women are still under-represented in senior management positions in European banks. Only 23 percent of C-suite roles within European banks were occupied by women in 2022, a DBRS Morningstar report found. That percentage shows little to no improvement over the last two years. Just four of the 62 banks in the analysis had a female CEO in 2022, the report said.

Although there has been a greater push for more gender diversity at companies and some countries have introduced quotas for women on company boards, it's still rare to see parity in the top levels of Europe's financial services firms. Only 14 banks in the study's sample had 30 percent or more women in their top executive group.

Women made up 38 percent of board positions in 2022 across the banks, a slight improvement from 36 percent a year earlier, the study found. The EU set a target last year for women to hold at least 33 percent of all director positions on boards by June 2026, with penalties to be set by individual member states for non-compliance.


– According to Reuters (paywall), former SEC chair Jay Clayton told lawmakers that big US public companies should start disclosing their exposure to China as part of a pilot program to allow investors and policymakers to see potential risks. In his testimony, Clayton proposed that companies with market capitalizations above $50 bn or with China-based revenues or costs above $10 bn should unveil their exposure to the world's second-biggest economy. He also recommended those companies explain how their operations would be affected in the event of a disruption in US-China economic ties.

'Investors will respond,' Clayton said. 'If it's demonstrated to investors that the level of risk has increased, they will pull back. If the level of risk has decreased, they will invest.' He added that more disclosure would reduce systemic risk.


– CNBC reported that Airbnb is adding James Manyika, Google's 'artificial intelligence [AI] ambassador', to its board. Manyika's addition underscores CEO Brian Chesky's ambitions in AI, which Chesky has said will radically change the Airbnb platform by 2024. As Google's head of research, technology and society, Manyika reports to CEO Sundar Pichai and focuses on how technology affects users' daily lives. Increasingly, that includes the company's AI research and products.

Manyika is also a vice chair of the National AI Advisory Committee, the federal panel that develops strategies for AI regulation. In early August, Chesky said on the Airbnb earnings call that generative AI has the ability to create an entirely new interface for the platform, based on personalization. He wants the company's integration of the new technology to result in more than a chatbot.


– The Wall Street Journal (paywall) reported that Marshall Miller, principal associate deputy attorney general at the US Department of Justice (DoJ), said US prosecutors are increasingly focusing their attention on investigating corporate crimes that have national security implications.

'We've determined that it's necessary for the department to infuse significant amounts of resources into national security, corporate investigations and prosecutions,' Miller said. He cited the appointment of the national security division's first chief counsel for corporate enforcement. Ian Richardson, a former federal prosecutor in the Eastern District of New York, will co-ordinate and oversee the prosecution of corporate crime relating to US national security.

The DoJ's national security division is in the process of hiring 25 new prosecutors to tackle sanctions evasion and export control violations, with additional resources being added to the section's bank integrity unit.


– According to Reuters, activist investor Starboard Value said GoDaddy was 'deeply' undervalued and that the web services company should consider a potential sale if it cannot improve its financial performance. Starboard said the firm was set to miss almost every target set for the next two years at its 2022 investor day, including those for revenue and adjusted core profit growth. Starboard also highlighted the company's technology and development costs. In addition, the investor said the company has denied its requests for a board seat over the past 18 months.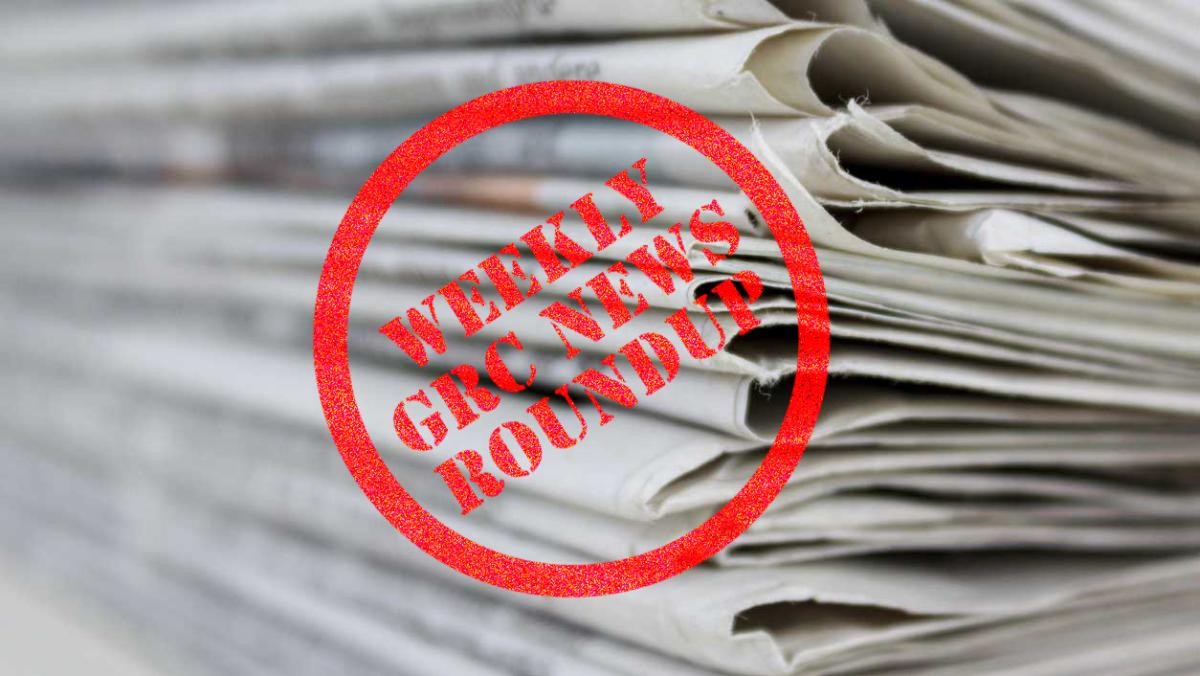 – SEC chair Gary Gensler said the agency continues to review feedback on its proposal to require climate-related disclosures from public companies, declining to give a timeline for when the rule might move forward, the WSJ reported. Gensler said the SEC is focusing in particular on Scope 3 reporting. 'We try not to do things against a clock,' he told lawmakers in an oversight hearing before the Senate Banking Committee. 'It's really when the staff is ready.'

Without offering specifics, Gensler suggested the Scope 3-related aspect of the proposal could be changed. 'Really important issues have been raised around Scope 3,' he said. 'We're going to have to think about what to do with… Scope 3.' He repeated earlier remarks that the SEC does not intend to draw private companies into an extensive carbon-reporting regime.


– Reuters reported that Senator Chuck Schumer, D-New York, brought US technology leaders – including Tesla CEO Elon Musk, Meta Platforms CEO Mark Zuckerberg and Alphabet CEO Sundar Pichai – to Capitol Hill for a closed-door forum on how Congress should set AI safeguards. Lawmakers are trying to address how to mitigate the dangers of the emerging technology.

'This is an important, urgent and in some ways unprecedented moment,' said OpenAI CEO Sam Altman as he walked into the meeting. Lawmakers want safeguards against potentially dangerous deepfakes such as bogus videos, election interference and attacks on critical infrastructure.


– According to the FT, the founder of UK life sciences company Abcam intends to vote against a proposed $5.7 bn acquisition by US group Danaher, instead pushing to replace the board and take back control as CEO. Jonathan Milner said the $24-a-share deal materially undervalues Abcam. He said he had spoken to other shareholders and analysts who shared his concern and was now requesting an emergency general meeting to try to replace the board.

Abcam said Danaher's offer was the 'highest and best price' received after a 'thorough and extensive sale process,' engaging with more than 30 potential counterparties, including more than 20 potential strategic acquirers.

'It is unfortunate that Jonathan Milner has prejudged the deal without the full facts that will be published in the scheme circular,' Abcam said. 'We look forward to engaging with shareholders about the full extent of the process and the value-maximizing proposition of the transaction for shareholders post-publication of the scheme circular.'

Danaher did not comment on Milner's comments on the deal valuation but said the US company was committed to keeping Abcam headquartered in the UK.


– Some large US law firms are promoting their work on managing challenges to clients' corporate diversity programs, even as some firms face a backlash against their own diversity efforts, according to Reuters. McGuireWoods said it has created a dedicated team to help companies reduce their legal risk, noting 'increased legal, shareholder and other scrutiny of corporate diversity, equity and inclusion programs'.

The firm said lawyers from its corporate governance, employment, education and other teams would be part of the effort, which will defend against lawsuits and shareholder actions and advise on government investigations related to diversity policies. McGuireWoods is at least the third-largest US law firm, after Simpson Thacher & Bartlett and Gibson Dunn & Crutcher, to announce an initiative for clients facing such legal threats.


– CNBC reported that former Starbucks CEO Howard Schultz is stepping down from the company's board. 'I look forward to supporting this next generation of leaders to steward Starbucks into the future as a customer, supporter and advocate in my role as chairman emeritus,' said Schultz in a statement. The company said the change was part of a planned transition. Schultz didn't provide a reason for his exit. As he leaves the board, Wei Zhang will take his seat. Zhang has previously served as a senior adviser to Alibaba and the president of Alibaba Pictures Group.


– Reuters reported that Norway's $1.4 tn sovereign wealth fund unveiled tougher demands for how companies it invests in should handle climate risk, telling boards to move from target setting to transition planning. 'With the effects of climate change becoming more evident, we really saw the need to sharpen our expectations,' the fund's chief governance and compliance officer Carine Smith Ihenacho said in a statement.

Among the sharpened criteria, the fund wants companies to establish the KPIs they will use on a consistent annual basis to measure the delivery of their climate transition plan, disclose annually their progress on delivery of their net-zero strategy and show how executive pay aligns with the delivery of interim targets and transition plans.


– The WSJ reported that the United Auto Workers (UAW) union for the first time went on strike at all three Detroit car companies, with workers joining picket lines targeting work stoppages at plants in Michigan, Ohio and Missouri. UAW officials initiated the walkout after failing to clinch new labor deals with General Motors, Ford Motor Company and Jeep maker Stellantis for about 146,000 US factory workers.

A Ford spokesperson called the union's latest demands unsustainable and said the company was committed to reaching an agreement. Stellantis said it was disappointed in the strike, adding that union leaders refused to engage in a responsible manner. GM echoed that stance, saying it had made an unprecedented offer to the union.

'The money is there. The cause is righteous. The world is watching and the UAW is ready to stand up,' UAW president Shawn Fain told union members.