At Corporate Secretary, we offer innovative advertising and sponsorship opportunities to enable you to get your message in front of our high-level audience of governance professionals.
Click here for our digital media kit to read more >>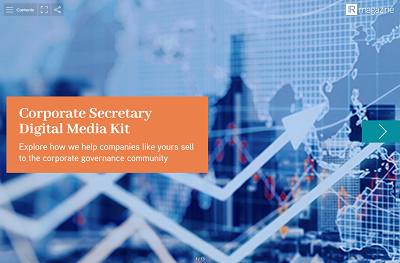 We take a consultative approach, working with you to understand your marketing objectives, develop effective campaigns and drive ROI.
Our range of content, digital and events solutions can provide maximum value for any budget.
For 18 years, we've brought you the voice of corporate governance
Corporate Secretary was founded in 2002 to help corporate secretaries and other governance professionals develop a deeper understanding of their roles and become more effective in them.
 
For more information on advertising and sponsorship opportunities with Corporate Secretary and to find out how we can help you achieve your marketing goals, please contact:
Ian Richman
President
Direct: +1 212 430 6865
Cell: +1 917 862 3811
25 Broadway, New York, NY 10004, US

Taylor Ray 
North American Sales Director
Direct: +1 212 430 6895
25 Broadway, New York, NY 10004, US
We look forward to hearing from you!