Agency chair also sounds warning about corporate disclosures on AI technology
Artificial intelligence (AI) offers 'tremendous opportunities' for finance but could exacerbate a future financial crisis and may need new rules to prevent conflicts of interest, SEC chair Gary Gensler warned in a speech on Monday.
Speaking at the National Press Club, Gensler said AI technology is the 'most transformative technology of our time,' describing it as 'on par with the internet and mass production of automobiles'.
For the financial industry, AI could lead to greater inclusion and improved user experience, the SEC chair said, although he also warned about a slew of risks, such as explainability, bias, conflicts of interest and fraud.
The SEC is considering new rules related to when the interests of consumers and AI-powered platforms diverge, Gensler stated. 'If the optimization function in the AI system is taking the interest of the platform into consideration as well as the interest of the customer, this can lead to conflicts of interest,' he said.
'In finance, conflicts may arise to the extent that advisers or brokers are optimizing to place their interests ahead of their investors' interests. That's why I've asked SEC staff to make recommendations for rule proposals for the commission's consideration regarding how best to address such potential conflicts across the range of investor interactions.'
The SEC's regulatory agenda, updated last month, noted that the commission is working on rules 'related to investment adviser conflicts in the use of predictive data analytics, artificial intelligence, machine learning and similar technologies'.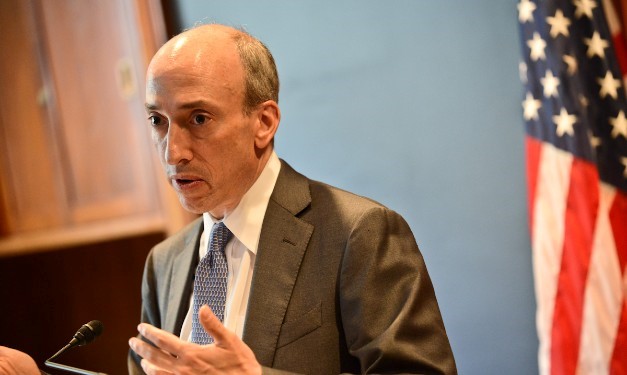 Gary Gensler   Photo: Third Way Think Tank
'FINANCIAL FRAGILITY'
Gensler's also discussed how AI technology could lead to more herd-like activity within the financial sector, potentially worsening the effects of any systemic issues that arise.
'AI may heighten financial fragility as it could promote herding, with individual actors making similar decisions because they are getting the same signal from a base model or data aggregator,' he said. 
'This could encourage monocultures. It also could exacerbate the inherent network interconnectedness of the global financial system. Thus, AI may play a central role in the after-action reports of a future financial crisis.'
In addition, the SEC chair sounded a warning to companies about their AI-related disclosures. Amid the hype around generative AI this year, companies have rushed to discuss AI technology with investors.
Issuers 'making statements on AI opportunities and risks need to take care to ensure that material disclosures are accurate and don't deceive investors,' Gensler said.