In-house and private practice attorneys see opportunities and risks
Attorneys speaking at the Corporate Secretary Forum – Summer in New York last week pointed to some of the potential benefits and dangers involved with the use of artificial intelligence (AI) by both in-house legal teams and law firms.

'It's important to welcome the technology because it could make our lives more efficient,' Francesca Don Angelo, deputy general counsel and corporate secretary with Galaxy Digital, told attendees. 'I think it could help solve pain points in boring rote administrative tasks. But there is a ton of risk associated with it.'

Don Angelo said it is important for lawyers to identify and alert colleagues to those risks. For example, she noted the rapid rise of ChatGPT and said attorneys should consider sending a note to members of their organization about its use – and consider whether its use should be allowed. She explained that potential problems arising from AI may include patent infringements and privacy issues around material non-public information and client data.

Once companies have sent notices to employees on whether they are allowed to use AI tools, those firms that allow it need to create a policy on how and when to do so by partnering with the firm's tech team, chief security officer and senior management to work out how AI can be used safely, Don Angelo said. She added that a lot of regulation of AI will be coming down the pike.

Observers expect attorneys will use AI for tasks such as legal research. Don Angelo said the output from this should still be checked and tested. One way to do so would be to enter something the lawyer knows to be untrue and see whether the AI tool responds with something known to be correct, she suggested.

Fellow panelist Daniel Silver, partner with Clifford Chance, said his and most other major law firms are using AI in areas such as contract and document reviews. He also commented that in neither case are AI tools a substitute for lawyers' reviews, although he said that may change as the technology develops and is able to synthesize documents.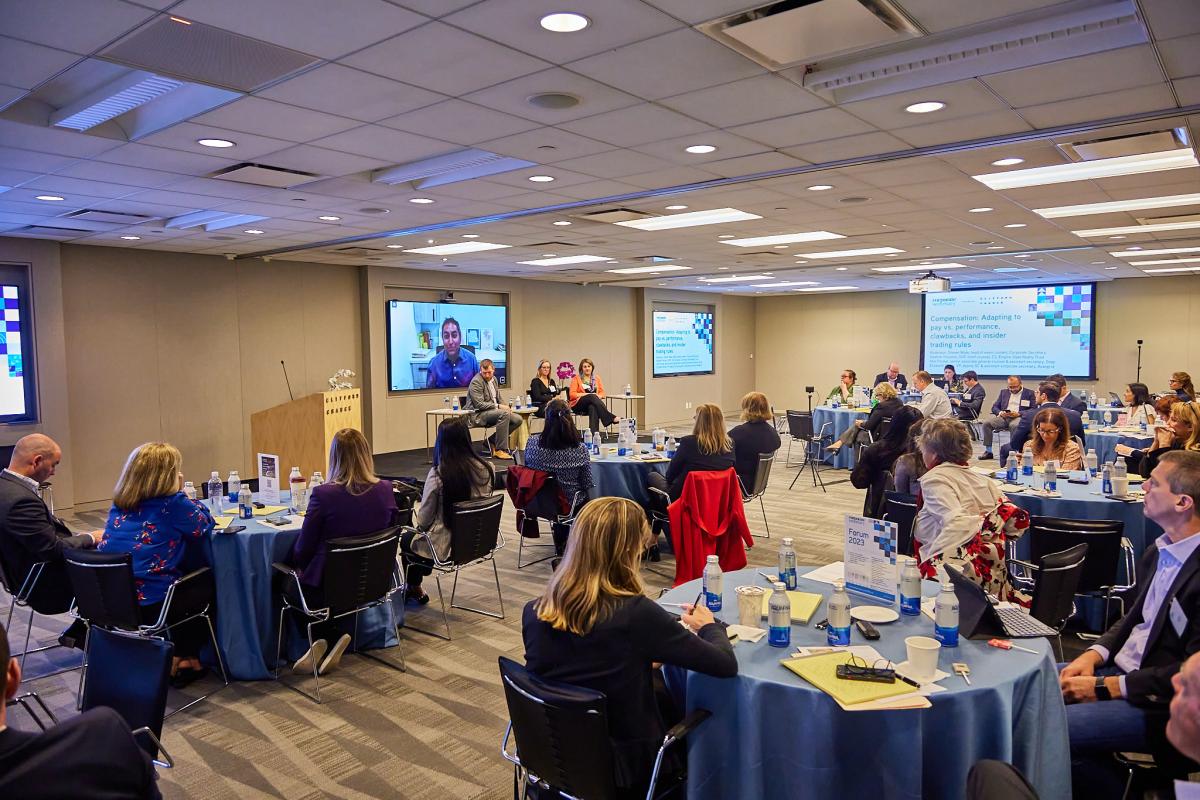 CUTTING COSTS… AND JOBS?
One of the anticipated benefits of AI is that it will save money by reducing the time and effort spent doing laborious administrative tasks. The pressure to adopt such tools is likely to apply both to in-house and private practice legal teams. 'Keep an open mind on [AI] because your company will want you to be open to it for cost savings, if nothing else,' said Don Angelo. She noted having heard of some clients already asking their law firms to use such tools.

The downside of such cost-saving is that it may lead to job cuts in the legal and other industries, observers have predicted. Silver said tasks that might have previously taken a team of associates days to complete may soon be possible to resolve in minutes, a shift that will affect law firms' hiring needs and costs structures. But senior lawyers will still be needed to analyze the results and provide advice to clients, he told attendees.

Similarly, Don Angelo expressed hope that AI will enable attorneys to focus on providing high-quality advice on strategic and policy issues, adding that it may lead them to reach a better work-life balance. Her concerns also include accounting issues and job losses, although she is hopeful that the new technology will create new jobs.

'The best hope is that it improves lawyers' quality of life,' Silver said. But it could also become a crutch for lawyers, leading to tough issues when AI-produced product is incorrect, he warned.

For more coverage from the Corporate Secretary Forum – Summer, please click here.

The latest episode of the Governance Matters podcast from Corporate Secretary – out tomorrow – includes an interview with Anthony Davis, of counsel with Clyde & Co, about some of the questions AI raises, such as how it will affect the way law firms offer services to corporate clients, how it will change the role of in-house counsel and how it may raise ethical and liability concerns.

Corporate Secretary's next in-person event is the ESG Integration Forum – Summer, which takes place in New York on Thursday, July 13. Details can be found here.