Mark Babington, FRC executive director of regulatory standards, speaks at the Corporate Secretary ESG Integration Forum
Companies need to become more selective about which material ESG topics they identify and report on, according to Mark Babington, executive director of regulatory standards at the UK Financial Reporting Council (FRC).
Speaking this today at the ESG Integration Forum – Europe, hosted in London by Corporate Secretary and IR Magazine, Babington said companies can lose focus on what is important if they try to keep all stakeholders happy.
'One of the challenges for all companies – be they reporters in the EU, the UK or other jurisdictions – is that boards are going to have to get much more disciplined and discerning about what is material in the context of this company,' he said during a fireside chat. 'What do I need to report?
'It may be an unfair parallel, but when I go and talk to filers in the US, boards are really good at saying, These four things are material in the context of my company, and I'll report on those.
'In the UK, what we tend to have is boards saying, These four things are really important. And then they hear the feedback and someone says, But you must report on this, and you must report on this and you must add this in and you must add this in. And four things become 10 things.
'And then, rather than actually being focused on, how does this align with our business model? How does this align with us discharging our obligations to stakeholders? It all becomes more of a compliance exercise. And that's what I desperately want to get away from.'
INCOMING STANDARDS
Babington's comments come as sustainability reporting initiatives around the world gather speed. Last month, the International Sustainability Standards Board (ISSB) said it would issue its first set of reporting standards at the end of Q2 2023.
Meanwhile, the EU developing its own European Sustainability Reporting Standards, which are expected to be adopted this year, and the SEC in the US continues to work on its new climate disclosure rules.
At the forum, Babington warned that the development of new disclosure rules must take into account the impact on smaller companies.
'Ninety percent of our economy is the [small and medium-sized enterprises (SME)] sector,' he said. 'How does this translate into a workable proposition for that sector? In IFRS financial reporting, we have IFRS for SMEs. Do we need ISSB standards for SMEs? We need to be able to have something that is operable, and that is ultimately going to meet the needs of the consumers of data. And I think we've got some way to go.'
Babington also cautioned that the development of reporting standards is a slow process. 'There has to be a degree of recognition that we are on a glide path, and that glide path won't be as fast as some people want it to be,' he said.
'But actually, if what we want is reliable information that communicates how a company delivers its business and what its prospects are, how it deals with issues that matter to stakeholders – like ESG – then it's not going to be right from the outset. Indeed, we found that in our work. We've done a lot of work, for instance, on TCFD reporting, and we've recognized that it has improved significantly over the last few years.
'But we have recognized that we need to drive best practice in the marketplace. Now we will probably move to a more robust engagement with those that don't properly carry out their obligations.'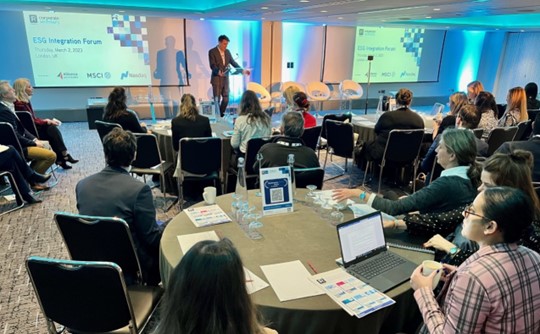 GETTING AHEAD
Asked whether issues should try to get ahead of upcoming regulatory changes, Babington advised against it. 'Never anticipate what regulations might say, because they never say what they say until they're finished. You do have to be quite careful there,' he said.
'For all of these companies, it's the dialogue they have with their stakeholders… Are you, as a company, meeting the needs of those who use your annual report, who use your publications? If you're in a particular sector or industry, where there's a much greater sensitivity and focus on ESG matters, then you might well want to aim for the highest level of disclosure.
'And we know that there are investors out there that may be more attracted to those who are disclosing at the highest level rather than those who are just meeting regulatory requirements.
'But ultimately all of this information is there to meet a need. Don't aim for the highest level of disclosure if, in doing that… you then don't translate the financial impacts through to your financial statements, because that is a critical part of the package. And actually, all of the work that goes into that highest level of disclosure could be undermined because you don't translate it through into your financial statements.'